FLASH SALE - 50% OFF YOUR FIRST MONTH ON ALL PROGRAMS!
YOUR FULL TRAINING PLAN.
FULLY BESPOKE TRAINING CYCLES, NO EXTRAS NEEDED!
5-6 DAYS A WEEK.
£225 PM | 50% OFF FIRST MONTH OFFER - £112.50
ALL OF THE PERFORMANCE PROGRAM.
FULL TRACKING USING SPECIFIC TRAINING DEVICES.
7 DAYS A WEEK WITH DAILY CONTACT VIA DM.
£325 PM | 50% OFF FIRST MONTH OFFER - £162.50
TAKE YOUR TRAINING TO THE NEXT LEVEL WITH OUR PERFORMANCE PROGRAM!
TRIED AND TESTED FOR OVER 7 YEARS OF DEVELOPMENT. OUR TEAM OF COACHES HAVE WORKED WITH ATHLETES FROM ALL FIELDS OF SPORT WITH ONE COMMON GOAL, TO UNLOCK THEIR TRUE POTENTIAL!
THERE IS NO ONE METHOD WHEN YOU WORK WITH US, WE FIND WHAT WORKS FOR YOU AND NOTHING BUT YOU. THE PROCESS BEGINS WITH A PHASE OF SCREENING YOU ON YOUR PERFORMANCE, CAPACITY AND GENERAL LIFESTYLE, BEFORE WE DIVE INTO AREAS OF WEAKNESSES AND OPPORTUNITIES.
WE WORK WITH ATHLETES IN MOTORSPORT, BOXING, MMA, FOOTBALL AND MUCH MORE. THE ONLY ASPECT THAT CHANGES IS THE STAGES OF VOLUME OVERLOAD AND THE SPECIFIC REQUIREMENTS OF WHAT THE SPORT DEMANDS FROM YOU. THE FOCUS OF UNDERSTANDING YOU AND WHAT WE NEED TO MAKE YOU BETTER GIVEN THE SPECIFIC CHALLENGE IS THE SAME!
DO YOU WORK WITH A COACH?
YES! YOUR PROGRAMMING IS BESPOKE AND YOUR COACH WILL WORK CLOSELY WITH YOU TO KEEP YOU ON TRACK WHATEVER HURDLES GET IN THE WAY.
YOU GET YOUR PROGRAMMING EVERY SUNDAY BEFORE THE WEEK BEGINS THROUGH AN APP CALLED TRUECOACH. ALL DEMO VIDEOS AND DETAILS ARE PROVIDED EACH DAY. YOU CAN TOUCH BASE WITH YOUR COACH THAT DAY TO ENSURE YOU ARE READY TO GO AND KNOW EXACTLY WHAT TO EXPECT FROM THE WEEK.
WHAT ABOUT YOUR NUTRITION?
OUR COACHES WILL PROVIDE NUTRITION SUPPORT TO KEEP YOUR FOUNDATIONS ON POINT, RECOVERY TO A MAXIMUM AND GOALS IN SIGHT.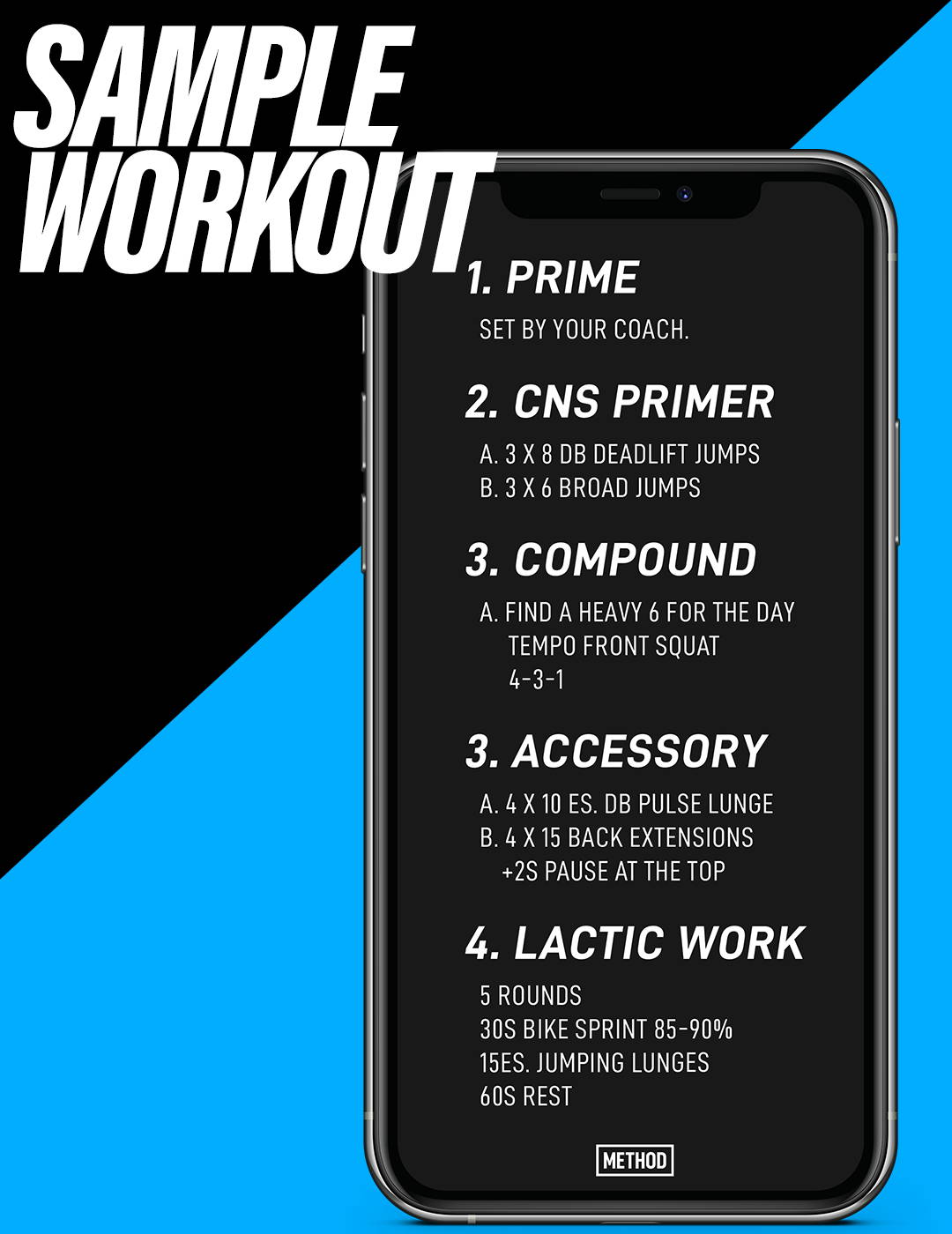 WHAT ELEMENTS OF TRAINING DO WE COVER?
WE COVER ELEMENTS OF OLYMPIC LIFTING, GYMNASTICS, AEROBIC AND ANAEROBIC... WHATEVER YOUR GOAL AND INTENT, WE WILL PROVIDE YOU WITH WHATS NEEDED TO SUCCEED. WE WILL ALSO BIAS YOUR TRAINING BASED ON YOUR TRAINING NEEDS AND ANY EVENTS YOU NEED TO PREPARE FOR.
5 TO 6 DAYS A WEEK WHERE CHECK INS OVER THE PHONE ARE A MUST SO WE CAN REGULARLY REVIEW AND ADAPT YOUR WEEKLY PROGRAM. SAMPLE WORKOUT IS ABOVE!
WHATEVER KIT YOU HAVE AVAILABLE, WE WILL BASE THE PROGRAMMING AROUND THAT!
"Within the first phase I new where I had been going wrong! My training before was never reactive to me, my situation and my goals. Now I am on a program that truly suits me I have full confidence in what I am capable of achieving! Love the volume, love the level of communication and excited for the weeks to come!" - DAN ELITE PERFORMANCE PROGRAM
AKA THE ENGINEER. MY EXPERIENCE AND PERSPECTIVE HAS BEEN DEVELOPED FROM OVER 7 YEARS OF HARD WORK AND ADAPTATION TO EACH ATHLETE I HAVE WORKES WITH. SPENDING YEARS LEARNING FROM AND WORKING WITH INDUSTRY LEADING COACHES AROUND THE WORLD, FROM COACHES SUCH AS IDO PORTAL AND GYMS LIKE WEST SIDE BARBELL.
MY MAIN GOAL IS TO DEVELOP A UNIQUE RELATIONSHIP WITH MY CLIENT TO DEVELOP THEM AS AN ATHLETE BOTH PHYSICALLY AND PSYCHOLOGICALLY.